Only for men

Managers patrol

Single room type
There are plenty of storage space. There is a convenience store nearby the dorm, and which is in a quiet residential area.
This dormitory locates at residential area. You can come to school easily with your bicycle within 6 min.

17 minutes

6 minutes
Location

〒134-0083
8-13-12 Naka-Kasai, Edogawa-ku, Tokyo
Price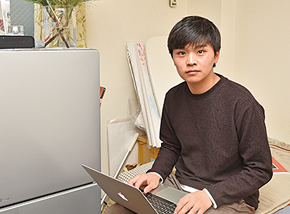 Floor plan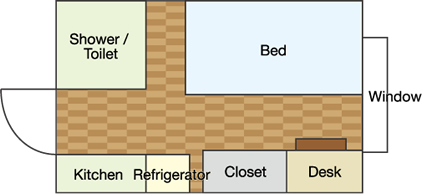 1K(12.54m2)
Room facilities

Toilet

Shower (without bathtub)

Electric stove kitchen

Air conditioner

Closet

Refrigerator

Lighting equipment

Bed

Desk & Chair

Curtain

TV terminal

Internet connection (wireless)

Internet connection (wired)
Communal (Common) facilities

Washing machine

Dryer (charged)
※1:When you get cooking utensils, do not forget to set appliance for IH correspondence.
※2:Smoking is permitted only at common-using space.


Private room

Kitchen

Shower / Toilet

Washing machine